A Heady Lanfranco Cocktail
---
By Roderick Conway Morris
PARMA, Italy 13 October 2001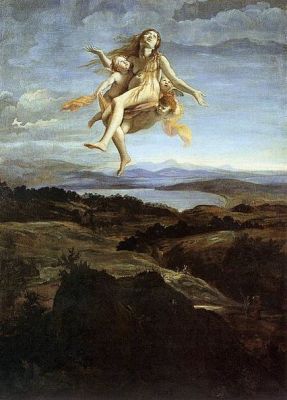 Museo di Capodimonte, Naples
Mary Magdalene Raised by Angels
by Giovanni Lanfranco, 1616-1618
Counter-Reformation Italy was the laboratory where the Baroque was born. The style was composed of quite disparate ingredients that, when successfully mixed, produced the artistic equivalent of effervescent and unpredictable chemical reactions.
Giovanni Lanfranco, who was born in Parma in the early 1580s, was a master blender of elements and a key contributor to the development of Baroque painting. He was trained in the 'classical' school of the Bolognese brothers Agostino and Annibale Carracci, which itself drew on several traditions, including Emilian, Venetian and ancient art, and he was himself subsequently directly influenced by, among others, Titian, Tintoretto, Caravaggio, and his fellow Emilians, Correggio and Parmigianino. Out of these elements he synthesized a distinct personal style, which should have secured him a permanent niche in the upper echelons of the Baroque pantheon.
As it is, Lanfranco remains comparatively little known to the wider public, a situation that was partly remedied by the well-chosen quartet of his canvases that featured in the excellent 'The Genius of Rome: 1592-1623' at the Royal Academy in London earlier this year (a version of which went on to Rome). But now, for the first time, Lanfranco is the subject of a full-scale exhibition of more than 150 paintings and drawings from collections around the world at the Reggia di Colorno, a former Farnese palace near Parma. The show continues here until Dec. 2, then travels on to Naples (Dec. 21 to Feb. 24) and Rome (March 16 to June 16), the two cities where Lanfranco spent most of his career, and where he left major cycles of frescoes.
The young Lanfranco's natural artistic talents were spotted by Count Orazio Scotti, in whose household at Piacenza the boy was serving as a page. Scotti arranged for him to be apprenticed to Agostino Carracci's Parma studio. Rome was the inevitable destination for a gifted and ambitious painter, and Lanfranco left Parma to join Annibale Carracci's team there after Agostino's death in 1602. A recommendation from the Duke of Parma to his brother Cardinal Odoardo Farnese, in whose vast Roman palace Annibale was already at work, also very likely hastened the young man's departure.
The details of Lanfranco's activities in these first years in Rome are hazy, but that he established a solid reputation there is witnessed by the large number of commissions he was given in Parma and Piacenza when he returned to the north for a year or two in 1610.
This visit was equally significant in demonstrating the extent to which Lanfranco was experimenting with different styles. Far from adopting Annibale Carracci's Roman mode wholesale, Lanfranco was still finding inspiration in his local roots. Indeed, as Erich Schleier, the show's curator points out, it was during this temporary homecoming that Lanfranco produced 'The Salvation of a Soul' (which now belongs to the Capodimonte Museum in Naples), 'the most Emilian' of his altarpieces. The artist clearly took advantage of the chance to reacquaint himself with the pictures and frescoes, particularly those of Correggio, he had grown up with and to re-examine them in the light of everything else he had seen.
But it was not until he was in his forties that Lanfranco had the opportunity to display the depth of his devotion to Correggio and his ability to reinterpret him for a later age. This came when he was commissioned to fresco the dome of Sant'Andrea della Valle. The spectacular, tumultuous rendering of the 'Assumption of the Virgin,' executed from 1625 to 1628, signaled the high point of his Roman years and is the finest of his frescoes.
Domenichino was given the task of decorating some of the lower parts of the church and bitterly resented Lanfranco's securing of the plum job. (According to tradition, the Bolognese went so far as to tamper with the scaffolding in the hope that his high-flying rival would be toppled.) It is worth remembering that in a culture that constantly referred to the classical past, imitation was regarded as legitimate, indeed desirable. But it has always been an index of the discrimination of any artist from exactly which models he or she chooses to draw inspiration.
In this respect Lanfranco showed a great deal of perception and good taste, and a nuanced appreciation of some of the best of his forerunners and contemporaries, without ever resorting to facile plagiarism.
On returning to Rome in about 1612, Lanfranco executed the most Caravaggesque of his surviving pictures, 'St. Peter Healing St. Agatha.' Here Lanfranco borrows Caravaggio's angle of light, extreme chiaroscuro and to some degree the type of composition. But the figures themselves are painted in a style that is very much Lanfranco's own, and the extraordinary, tentative delicacy with which St. Peter stretches out his gnarled hand to lay it upon St. Agatha's wounded breast lends the scene a muted tenderness radically different in spirit from Caravaggio's robust dramas.
It was soon after his return from Parma, too, that Lanfranco painted a startling work that remains one of the most original and mysterious of the Italian Baroque. 'Mary Magdalene Raised by Angels' is one of only two surviving canvases of a cycle of nine done for Cardinal Odoardo Farnese's since demolished Camerino degli Eremiti, a private retreat with a decorative scheme revolving around holy hermits and the Eucharist. The image of Mary Magdalene being born aloft by angels illustrates the apocryphal story that she retired to lead the life of a solitary penitent in a cave in France, where she was regularly visited by angels who carried her skyward to gain a foretaste of the eternal joys of paradise.
The vivid contrast between the rugged heath and headland, and the distant chain of misty blue mountains and azure cloud-billowing sky, and the bold handling of the contours of rock, ravine, scrub and woodland make this one of the most arresting of Italian landscape paintings. And the unconventionally depicted, entirely naked Magdalene, viewed as from a mid-air position only a little below the saint in ecstasy and her winged escort, gives the work a positively surreal quality.
---
First published: International Herald Tribune
© Roderick Conway Morris 1975-2023