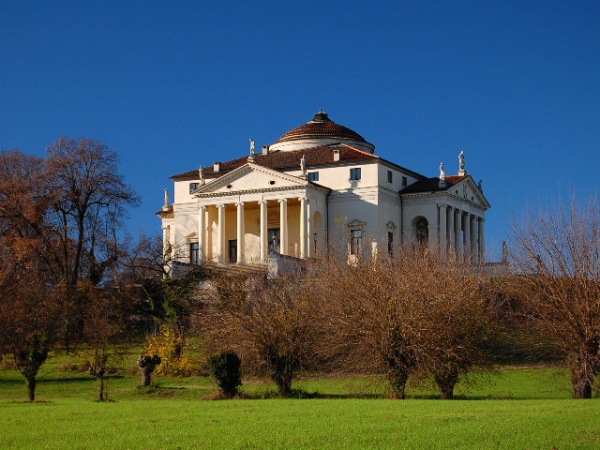 La Rotonda, Vicenza
Villa Capra La Rotonda designed by Andrea Palladio
Andrea Palladio: An Atlas of His Architecture
---
| | |
| --- | --- |
| By Roderick Conway Morris | VICENZA, Italy 23 June 2001 |
Andrea Palladio's architecture combined to a remarkable degree a reverence for the classical past with an ability to reinvent it.
He was, for example, principally responsible for reviving the ancient idea of 'harmonic proportion' not only in theory but also in practice, and then went on to put temple-like porticoes - finally divorcing them decisively from their original religious roots - on secular, domestic buildings.
Palladio's very flexibility of mind allied to a down-to-earth practicality in tackling basic design problems gave rise to a style that was both aesthetically pleasing and adaptable to all kinds of circumstances, and which was to make Palladio the most influential Italian architect in history.
A panoramic survey of Palladio's vast and varied legacy in the Veneto and Venice - nearly 70 villas, palazzi, churches, civic buildings and bridges - is now on show at the International Center for Architectural Studies at its headquarters in Palladio's Palazzo Barbaran da Porto. The exhibition, 'Andrea Palladio: An Atlas of His Architecture,' is accompanied by a volume of the same title, compiled by Guido Beltramini and Antonio Padoan, with photographs by Pino Guidolotti, which follows the master's example in being both elegant and useful. (The show continues until Sept. 19, and an English version of the book is due to be published by Rizzo International later this year.)
Born Andrea di Pietro della Gondola in 1508, he was dubbed Palladio - a quasi-classical sobriquet evoking the patron goddess of Athens, Pallas Athene, and the Golden Age of art and architecture - by his patron, Gian Giorgio Trissino, the Vicentine aristocrat, scholar and amateur architect. Had Palladio, a stone-mason, not been taken up by Trissino, he might never have existed either in name or as an architect, and it is to Trissino's credit that he spotted the young man's exceptional talents.
The nobleman could offer Palladio an entrée into educated humanist circles. A man of broad culture, he collaborated with his protégé on elaborating a new theory of harmonic proportion derived from music, and financed extended stays in Rome to study and measure the monuments there. But Palladio's training as a mason and builder played an equally key role in his career.
Economic and political circumstances aided the wide diffusion of Palladio's style on the mainland. The Venetian empire's heyday was coming to an end, as the Republic steadily lost its overseas colonies in the face of Ottoman military and naval might. Consequently, having long been in the habit of looking to overseas trade as its primary source of wealth and sustenance, the state began to take more interest in its Italian possessions on the 'terraferma' and agriculture there to assure future supplies of food.
This ushered in a boom in demand among the aristocracy and gentry for farmhouses and country villas on the landed estates they were improving and developing, which had to be functional and reasonably priced, but also in keeping with the status of their occupants.
The huge number of projects that Palladio was simultaneously dealing with over a wide swathe of the Veneto and Friuli necessitated the adoption of standardized building techniques and practices, though the external styles and special features of individual buildings remained astonishingly diverse - and a vital lesson to future followers of how much variation could be achieved with a basic set of components.
But Palladio's domestic architecture would not have reached the international audience it did, had he not published his 'Four Books of Architecture' in Venice in 1570. This was a revolutionary phenomenon: at once a guide to classical theory and virtual do-it-yourself manual of how to put it into practice, from an architect with decades of experience, illustrated with detailed drawings and ground plans relating, in a unprecedented manner, clearly and directly to the text, the examples being provided by Palladio's own existing and projected works.
Most of Palladio's readers beyond the Republic's borders were to know his architecture solely from this book, and hence it soon took on a life of its own. This had some curious results, as the show's section devoted to 'Four Books' and its reception demonstrates. For, in due course, the publication was being treated as more authoritative than the buildings he actually realized.
A classic example of this syndrome was the story of the 'Basilica Palladiana' in Vicenza, the city's old town hall, which in a breakthrough commission, Palladio transformed by wrapping around it a classical arched and pillared arcade. The building has undergone a series of modifications over the centuries to bring it in line with Palladio's descriptions of it in 'Four Books.'
The last and most dramatic of these occurred after World War II, when the entire city-center piazza was lowered to add a flight of steps at the Basilica's base, which Palladio included in his illustration of it, but had never built - no doubt because, ever prepared to balance aesthetic and functional considerations, he did not want to create difficulties for the moving of goods in and out of the shops below the Basilica's arcades.
The idyllic rustic surrounds of the Palladian villa form the backdrop of many of the pictures in 'The Sixteenth-Century Veneto: Paintings From the Hermitage,' a charming show of nearly 30 canvases lent by the St. Petersburg museum, at the Museo Civico in Bassano del Grappa, near Vicenza. (The exhibition continues here until Aug. 19, then travels to the National Art Museum in Barcelona, from Sept. 6 to Dec. 9.)
Lyrical, highly atmospheric Veneto landscapes were pioneered by Giovanni Bellini and Giorgione as settings for virgins, saints, mythological gods and goddesses and enigmatic nudes, and they became a hallmark of Venetian painting for a good half century thereafter.
By the mid-19th century an outlandish number of such pictures - including several in this show - were being attributed to Giorgione, who died tragically young in 1510. In recent times attributions have become more realistic. However, there are a good number of works here by such prominent artists as Palma il Vecchio, Lotto and Veronese, as well as some fine pieces now assigned to other figures, such as Bonifacio de' Pitati, and the opportunity to see these is just as welcome, even if less famous names are now attached to them.
---
First published: International Herald Tribune
© Roderick Conway Morris 1975-2023