Henry James and an Eccentric Sculptor's Fantasies
---
By Roderick Conway Morris
ROME 3 June 2000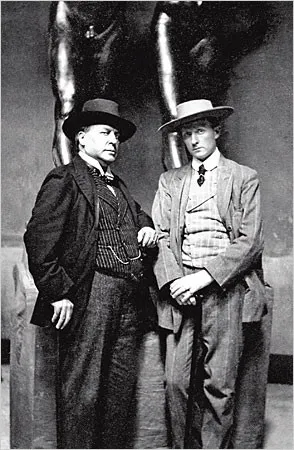 Museo Hendrick Christian Andersen, Rome
Henry James (left)
Hendrick Christian Andersen, 1907
The opening of an unusual new museum here has not only placed in the spotlight an eccentric and all-but-forgotten sculptor, but also his friendship with the novelist Henry James, whose numerous letters to the artist, only a handful of which have been published, will be appearing in print for the first time toward the end of May.
Many artists must have dreamed of one day having a museum dedicated to their work, but this one was an unlikely candidate to have his wish fulfilled. In fact, the Hendrik Christian Andersen Museum at Villa Helene, the neo-Renaissance studio-residence the artist designed and had built on Via Mancini, and which now forms part of Rome's National Gallery of Modern Art, is a monument to a talent that went off the rails.
And, reading Henry James's letters to Andersen, we can be in little doubt that the writer would have been dismayed that this Andersen's Folly should ever have become a permanent feature of Rome's museum and gallery scene.
Hendrik Christian Andersen (who was not related to the Danish writer) was born in 1873, the son of a poor Norwegian couple who the following year emigrated to Newport, Rhode Island. He and his two brothers all showed precocious artistic ability, and were taken up and educated at the expense of prosperous local philanthropists. Hendrik's older brother Andreas became a painter, Hendrik a sculptor and the youngest, Arthur, a musician.
Andreas married Olivia Cushing, a wealthy Newport heiress with literary pretensions, a match that was to have even more far-reaching effects on Hendrik's career than on her husband's. Following in Andreas's footsteps, Hendrik spent time studying in France and Italy, settling in Rome toward the end of the 1890s. It was here that he met James in 1899.
'Hendrik Andersen was young, attractive, dynamic and well-connected through his American friends,' said Elena di Majo of the National Gallery of Modern Art, the new museum's curator. 'His portrait busts and drawings of various personalities visiting and living in Rome had already brought him quite a lot of attention by the time he was introduced to James.' A number of these early busts are arranged in groups in the two large studio spaces on the ground floor of Villa Helene, but are dwarfed by the enormous monumental nude figures with which Andersen later became obsessed.
For James, encountering Andersen must have been a startling case of life imitating art, since he had already created an uncannily similar young sculptor living in Rome in his first novel, 'Roderick Hudson,' a quarter of a century earlier. James took a shine to the artist, nearly 30 years his junior, initially believing that he had stumbled upon a real genius, and became one of his first patrons. He bought a bust Andersen had done of a boy, Count Alberto Bevilacqua, for £50 (then $250; now about $4,100), a sum James declared to be 'modest for the admirable and exquisite work.'
When the writer returned to his home at Lamb House in Rye on the south coast of England, he initiated a correspondence with Andersen that was to last for the next 15 years, writing of the bust: 'I shall have him constantly before me as a loved companion and friend.'
In 1902, Hendrik's painter brother died of tuberculosis at the age of 33, and soon after his widow Olivia Cushing came to stay with Hendrik in Rome. This was an age of elaborate funerary monuments, but the one Cushing and Andersen envisaged for Andreas was grandiose even by the standards of the times.
'They had the idea of constructing a Palace of the Arts, decorated with enormous statues sculpted by Hendrik, in which Andreas's painting would be hung and where Olivia's plays would be performed with music by Arthur Andersen,' di Majo said.
The project soon mushroomed into an even grander and dottier scheme to construct an entire city devoted to the arts and culture. The huge drawings to scale of the city and its buildings now hang in Villa Helene. The seaside utopian metropolis was to include galleries, museums, gardens, a zoo, two cathedrals, a power station and Olympic-style sports facilities.
The 77 James letters to Andersen, now at the University of Virginia, were transcribed by Rosella Mamoli Zorzi, a James expert at Venice University, and are being issued by the Venice publisher Marsilio as 'Amato Ragazzo' (Beloved Boy), with the original texts and translations into Italian.
In 1917, Olivia Cushing died, leaving all her money to Andersen, thereby enabling him during the 1920s to build Villa Helene, and Andersen continued to work on his huge figures until his death in 1940. He bequeathed everything to the Italian state, with the proviso that his model and adopted sister Lucia should continue to have the use of the palazzo during her lifetime. Thus, it was not until her death in 1979 that it fully became public property, and only now that Andersen's determination to leave his mark has been rewarded with this bizarre museum dedicated to him and his fantasies.
---
First published: International Herald Tribune
© Roderick Conway Morris 1975-2023