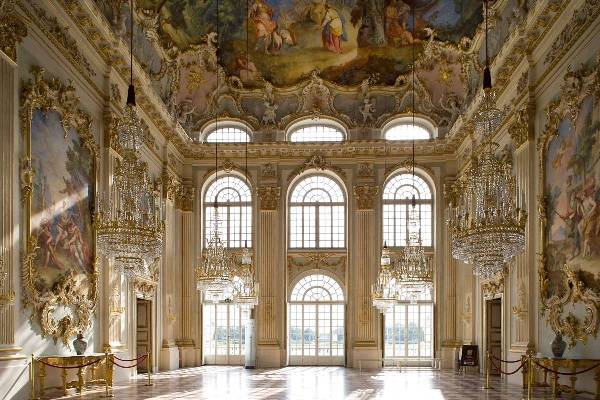 City of Munich
The Steinerner Saal (Marble Hall) at Nymphenburg Palace, Munich
250 Years of the Nymphenburg Porcelain Factory
---
| | |
| --- | --- |
| By Roderick Conway Morris | MUNICH 27 February 1998 |
'This is a working museum,' said Ekkehard Haseneder, manager and expert on ceramic manufacture at the Nymphenburg Porcelain Factory. Had Haseneder been employed there in earlier times, he would have been called the 'arcanist,' the name then given to the technical wizards who possessed the knowledge of how to make and fire the precious paste.
Even today outsiders are seldom admitted to see the factory - though, as Haseneder hastened to explain, 'not because we are trying to keep any deep dark secrets any more, but simply because making porcelain requires concentration, peace and quiet.' The Nymphenburg enterprise last fall celebrated the 250th anniversary of its founding, and a rare tour of its picturesque premises, which occupy a wing of the magnificent Nymphenburg Royal Summer Palace on the outskirts of Munich - the palace is still the residence of the Duke of Bavaria, a descendant of the Wittelsbach dynasty that ruled Bavaria until 1918 - charmingly reveals that one of the few things that has changed here over the centuries is Haseneder's job title.
The garden behind the graceful 18th-century administrative building and shop is a picture of rustic tranquillity. Amid the trees, an ivy-clad water mill churns away, driving gently whirring and creaking overhead cables connected to the potters' shed. At night the water mainly powers the mills that grind the raw ingredients of the porcelain - kaolin, or white china clay, quartz and feldspar - and during the day the potters' wheels. The factory has been linked to the city electrical supply only since the late 1970s, and this is used for just two weeks a year when the ancient water machinery is being overhauled, said Haseneder.
The grinding and mixing machines inside the mill have not only distinctive characters, but also names: Augusta, Bianca, Clara and Josepha. Purifying the components of the paste is a laborious business, part of which involves laying it down in the building's cool cellars for two to four years to mature like wine.
The scene in the potters', modelers' and painters' sheds - where plates, bowls and cups are fashioned on wheels, and minutely detailed figures meticulously constructed and decorated - is one of unhurried, monastic calm. To mold a complicated figure can take a month or more, and to paint it a week. And if 24-karat gold ornamentation is to be applied to it, the polishing of the metal with agate tools can take three times longer than the painting. Every piece is marked with the Nymphenburg stamp and the modeler's and painter's signatures.
'We have a model of everything we've ever produced and can make again anything a customer wants,' Haseneder said. 'But, as everything is made entirely by hand, no piece is exactly the same, and so is unique. Not to mention that we can vary designs to suit what the customer wants.'
The 35-year-old Baron Egbert von Maltzahn, a graduate in business administration with a number of years' experience in marketing and a keen interest in art, was appointed last year to the position of managing director to guide one of Bavaria's most venerable institutions into the next century.
He said that the tendency in the recent past had been to stick to trusted classic models rather than to exploit the full possibilities of the varied output down the centuries. And, as is demonstrated by 'Nymphenburger Moderne,' an excellent show of the factory's 20th-century porcelain, majolica and terra-cotta at the Munich State Museum (which continues until March 1), Nymphenburg in this century alone embraced a very wide range of styles, some of which are now being brought back into production.
'Pieces like Franz Anton Bustelli's lovely rococo commedia dell'arte figurines still do very well, but even here we would like to emphasize more that they were originally intended as table decorations to be seen from every side, and to encourage people to think of them in this context again,' said Maltzahn. 'More important still is to renew interest in what we have from the 19th and 20th centuries. We've already started to bring back some Art Nouveau pieces, because we have some really beautiful ones from that period. But we also have much else we'd like to revive, such as Adalbert Niemeyer's very plain, very stylish avant-garde designs that anticipated Bauhaus by 15 or 20 years, and ones by the sculptor Josef Wackerle, who did works for Nymphenburg over many years, and produced the marvelous majolica and terra-cotta statues you can see in the exhibition and the factory gardens today.'
The factory produces about 20,000 items a year. Some small items cost less than 100 Deutsche marks ($55); a cup and saucer 150 to 200; an elaborate plate illustrated with a landscape, around 4,000 DM; plain white figurines from 700 DM, and very intricately modeled and painted ones up to 10,000 DM.
A key factor in the strategy for the coming years, Maltzahn added, was to raise awareness among younger potential buyers of what Nymphenburg has to offer. The first step in this campaign has been to invite the 32-year-old designer Konstantin Grcic to enliven the windows of the previously rather stolid Nymphenburg store at Odeonsplatz in the city center with a series of witty and zany displays. One of them consists of a dishwasher stuffed with several thousand marks' worth of Nymphenburg's finest - but this turns out not to be such a joke after all, because Nymphenburg porcelain is, indeed, guaranteed dishwasher-proof.
---
First published: International Herald Tribune
© Roderick Conway Morris 1975-2023