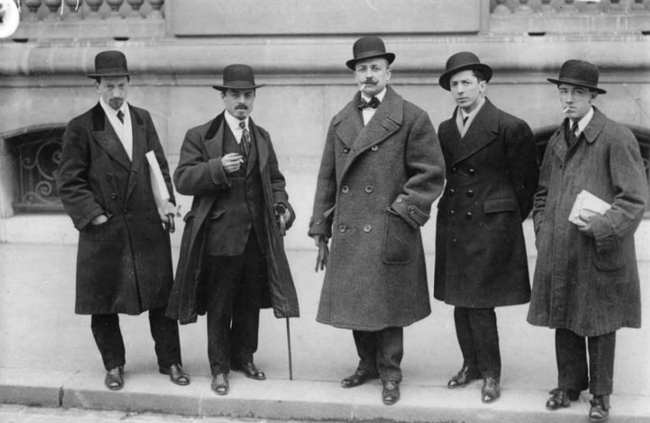 Private collection
Futurists in Paris, February 1912 (from left to right): Luigi Russolo, Carlo Carrà, F.T. Marinetti,
Umberto Boccioni, Gino Severini.
Futurism Returns but Its Bad Image Lingers
---
| | |
| --- | --- |
| By Roderick Conway Morris | VENICE 25 October 1997 |
Filippo Tommaso Marinetti, poet, publicist, rabble-rouser and founder of Futurism, glorified speed, machines, mass culture, modern warfare and Benito Mussolini, to whom Marinetti remained faithful until his death in December 1944.
Futurism, a home-grown Italian product but launched by Marinetti's Futurist Manifesto published in Le Figaro in 1909, was the paradigm of all subsequent sensationalist 20th-century avant-garde movements, but is distinguished by having become associated with the right rather than the left in politics. The negative aura that still clings to it has made Futurism the least consistently studied of avant-garde trends and, at times, a phenomenon simply not to be discussed in polite bien-pensant company.
However, a series of simultaneous independent initiatives may in the coming months give Futurism more concentrated public exposure and critical attention than it has received since the strident, posturing and tumultuous era of its inception, ironically thanks in large part to the efforts of a self-made businessman and art enthusiast, Gianni Mattioli (who in the 1940s helped Italian Jews escape to Switzerland), and the Brooklyn-born son of Russian Jewish emigrants, Eric Estorick.
Milan was the epicenter of Futurism but, in what has been seen in some quarters as a slap in the face to its birthplace, Luisa Mattioli Rossi, the daughter of the most prominent Italian private collector of Futurist art, Gianni Mattioli (1903-1977), has lent 26 key pictures to the Guggenheim in Venice for a five-year, renewable period. They are presently displayed in a separate wing of the building, but the terms of the loan allow the Foundation to intermingle Mattioli's canvases with the rest of the collection and to show them in its other museums abroad.
Mattioli was obliged to leave school at 15 to work as an errand boy for a raw cotton importer, but got to know Fortunato Depero and through him the rest of the Futurist circle. Mattioli eventually became a cotton magnate and between 1946 and 1953 was able to build a substantial collection of his friends' and other Italian works. This is the first time they are on continuous public show.
Umberto Boccioni, Giacomo Balla, Carlo Carra, Luigi Russolo and Gino Severini, who signed the 'Manifesto of Futurist Painting' in 1910, are represented by key pictures familiar from the textbooks, as are the other main figures who identified themselves with the movement: Depero, Ottone Rosai, Mario Sironi and Ardengo Soffici. Giorgio Morandi only briefly flirted with Futurism, but half a dozen of his oils from 1913-1917 are also here, as well as Modigliani's 1914 'Portrait of the Painter Frank Haviland,' which makes up for the lack until now of the artist's work in Peggy Guggenheim's collection.
A sociologist turned art collector and dealer, Estorick (1913-1993), also developed a passion for early 20th-century Italian art in the '40s and '50s and, having adopted England as his home after the war, bought a series of classic Futurist pieces by Boccioni, Balla, Russolo, Severini and Soffici as well as canvases by Giorgio de Chirico and Modigliani. Some of these were on loan to the Tate Gallery from 1966-1975, but the sale of a Kandinsky and a Chagall and money from the National Lottery have now financed the creation of a permanent home for the Estorick Collection of Modern Italian Art at Northampton Lodge in London. It will open to the public from Jan. 28.
Marinetti and his followers prided themselves on concocting a Futurist version of everything from architecture, musical movement and flower arranging to clothing, sex and gastronomy. It is the ambition of a large-scale forthcoming show, 'Futurism: 1909-1944,' to tackle not only the visual arts but also Futurist literature, theater, film, fashion, advertising, building, interior decoration and other areas where the ideology had an impact.
The exhibition will be at the Palazzo Ducale in Genoa (Dec. 18-March 8), then at the Fondazione Marzotta, Milan (March 27-June 28).
The dancer Giannina Censi (1913-1995) became a leading exponent of Futurist expression on stage. Her performances included an interpretation of lyrics by Depero who had designed ballet sets while working in New York. Depero's house-museum in Rovereto is now the setting for 'Giannina Censi: Futurism in Dance' (until Nov. 30).
Full-blown Futurism lasted only a few years and most of its adherents soon turned to other styles and more traditional values. Many of its most characteristic art works already form part of collections such as those of Mattioli, Estorick and Jucker (which was sold by the heirs to the Milan municipality in 1992, and is now on show with the city's other Futurist holdings at the Palazzo Reale). Yet, there are still a number of significant works that could yet come onto the market, according to Claudia Gian Ferrari, who regards herself primarily as an art historian with a special interest in Futurism, but also deals through her eponymous gallery in Milan.
'In Italy, Futurism was considered synonymous with Fascism after the war and the authorities positively encouraged the sale of works to foreign buyers -- the reason why so many of the major ones are no longer here,' she said. 'But the attitude has been changing and Futurism is now finding its place in the general overview of modern Italian art.'
The movement's unfashionability have kept prices low in comparison with other contemporary schools of avant-garde art, she added. Boccioni died in a riding accident in 1916, and many of his pieces are already in museums, so are rare. But it now seems likely that one of his paintings will soon be available for sale, and Gian Ferrari said she would expect it to fetch 4 billion to 6 billion lire ($2.3 million-$3.5 million). Meanwhile, two works from Severini's Futurist period will figure at Christie's Nov. 24 Milan sale, both estimated at 38 million to 42 million lire.
---
First published: International Herald Tribune
© Roderick Conway Morris 1975-2023