Treasures of 15th-century art in Ferrara
---
By Roderick Conway Morris
FERRARA, Italy 26 October 2007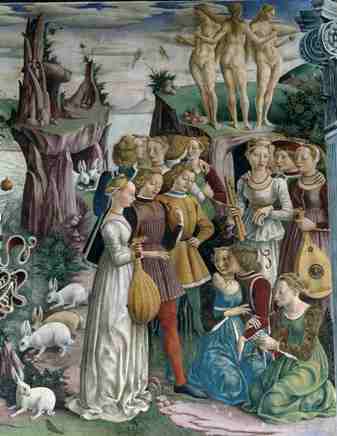 Palazzo Schifanoia, Ferrara
The Triumph of Venus, detail from the Month of April,
by Francesco del Cossa, 1469-70
'Great and splendid is Florence, yet the worth of all her heaped-up treasures does not equal Ferrara's jewels,' declares a character in Goethe's drama on the life of the Ferrara court poet Tasso.
Of all Italy's glittering Renaissance city states, Ferrara suffered the most wholesale scattering of her locally produced moveable artworks. The prime cause was the fall of the house of Este, which had created this still architecturally impressive city in the unpromising marshlands near the mouth of the Po and made it one of Europe's most renowned cultural centers. When the Este failed to produce a legitimate male heir in the late 16th century, they were obliged to decamp to nearby Modena. Ferrara reverted to direct rule by the Papacy, and the depredations began. As the city went into decline prized treasures in private hands were also sold.
A vivid idea of the sheer color and sumptuousness, not to mention the marvelously distinctive styles of Ferrarese art during its golden period in the mid-15th century, is provided by 'Cosmè Tura and Francesco del Cossa: Art at Ferrara in the Age of Borso d'Este' at Palazzo dei Diamanti and Palazzo Schifanoia (until Jan. 6). This temporary return of more than 150 paintings, sculptures, illuminated manuscripts, drawings and other pieces from over 70 international public and private collections is curated by Natale Mauro with the aid of other specialists, and offers a lucid reassessment of the epoch and its leading personalities.
The first two rooms are given over to Leonello d'Este, Borso's elder brother, who ruled from 1441 until his death in 1450. Leonello was one of the great humanists of the age and he attracted to the court important artists and architects, from Pisanello and Alberti to Jacopo Bellini and Mantegna. The hitherto dominant international Gothic style was in the process of undergoing change, and an explosion in creativity occurred in Ferrara during Borso's 21-year reign.
Although advocates of the new art and learning, the Este remained devoted to medieval notions of chivalry and French Romances. Leonello's and Borso's father, Niccolï - who had unchivalrously and notoriously had his beautiful young second wife Parisina and his handsome first-born Ugo beheaded in a dungeon and secretly buried by night, after they were accused of having an affair - liked to give his numerous legitimate and illegitimate offspring names culled from chansons and Arthurian legend. Ugo's is the Italianized version of Hugues, Leonello's of Lionel and Borso's of Bohort. They also had female siblings with names such as Méliaduse, Ginevra (Guenièvre) and Isotta (Iseult).
Borso was a passionate reader of Romance adventures in the original French (he was never a classical scholar like Leonello). The court also sedulously kept up special relations with the French and Burgundian rulers. Burgundy was then in control of Flanders, and a primary conduit through which Flemish culture came to Ferrara. The Este became pioneers in Italy of the appreciation and promotion of Flemish arts.
It was Cosmè Tura, born in Ferrara in about 1433, who so markedly succeeded in fusing Gothic, Flemish and classical elements to forge a striking new Ferrarese style of painting. Son of a cobbler, he started his career as a craftsman in the ever-expanding Este palace workshop within the walls of the looming castle that still dominates the center of town, producing flags and other decorative articles. He soon became the de facto chief court artist, executing and overseeing a wide range of activities. His own painting style was at the same time startlingly sculptural, richly colored and expressive to the point of eccentricity. His instantly recognizable Madonnas, some verging on the conventionally pretty, some distinctly jolie-laide, and images of Christ and saints, with features that combine both the gaunt and the fleshy, exude an individuality and almost pathetic humanity that makes them peculiarly touching.
The details of Francesco del Cossa's life are tantalizingly elusive. Difficulties arising from the lack of documentary evidence have been compounded by the 16th-century Florentine art historian Vasari's conflation of del Cossa with Lorenzo Costa, who followed Mantegna as court painter at Mantua. The influences on Cossa's work embrace a very subtle mixture of Donatello, Domenico Veneziano, Piero della Francesca, Tura, Mantegna and Pollaiuolo, but he developed a strong painting style of his own, less extreme than Cosmè's but exceptionally lively and eloquent. The stained glass on loan here made to his designs is also stunningly beautiful.
Francesco del Cossa's most celebrated work are the frescoes of March, April and May in the Room of the Months at Borso's favorite pleasure resort, Palazzo Schifanoia (literally: 'Away with Tedium'). The 'Months' murals here, painted by a number of hands using both fresco and dry techniques, and the subject of a recently completed, nearly decade-long, restoration program, show Borso and his court disporting themselves with riding, hunting, music, flirting and other entertainments, while a contented peasantry in the background uncomplainingly goes about the age-old rural tasks. These vignettes, in which Borso repeatedly figures, often smiling and even stifling his laughter at a favorite court buffoon's latest quip, are framed by a complex symbolic astrological and classical scheme.
The Room of the Months, commissioned not long before Borso's death, represents the apex of the benign old despot's self-celebration and aspirations to achieve immortality through art. By then he had obtained the title of Duke of Modena and Reggio (two nearby towns within the Este domains) from the Holy Roman Emperor Frederick III, and was about to be made Duke of Ferrara by the Pope. Through tireless diplomacy he had kept larger neighbors at bay without resort to arms and maintained internal peace for an unusually long period. And he had understood perhaps better than any other prince of his times the power of artistic patronage in glorifying the self, the dynasty and the state.
There is no question that of the surviving 'Months' murals, Francesco del Cossa's are outstandingly the most animated, and most expertly and imaginatively executed. But they were the occasion for an uncharacteristic lapse of style and taste on Borso's part. The artist petitioned the Duke for an additional payment to compensate him for the very considerable expense to himself in high quality materials, his time and effort.
But Borso gave a curt and dusty answer. As a result, Ferrara lost the services of one of the finest artists of the century, Cossa departing to pursue his fortunes elsewhere. Sadly, he died of plague in 1478, while working in Bologna, when still only in his early 40s. But many will find Cossa's works at both Palazzos Diamanti and Schifanoia one of the major revelations of this splendid exhibition.
---
First published: International Herald Tribune
© Roderick Conway Morris 1975-2023