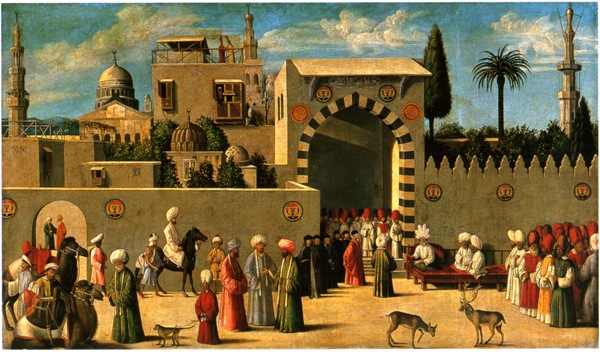 Louvre, Paris
Reception of the Venetian Ambassadors at Damascus, 1511
'Venice and Islam' : An alliance of paradoxes
---
| | |
| --- | --- |
| By Roderick Conway Morris | VENICE 31 August 2007 |
The year 828 is the date traditionally given for when Venice's most distinguished guest from the Orient, St. Mark, took up residence in the city.
The smuggling of his remains out of Alexandria to Venice by two Venetian merchants was of great significance. Not only had the young republic acquired a top-notch patron saint but thereafter Alexandria and Venice became virtual twin cities in the Venetian mind, and Venice's special relationship with the Levant at large was symbolically sealed.
It was trade with the East that transformed this lagoon settlement into a rich and powerful independent nation. And during La Serenissima's heyday, its most important trading partners were Muslims and the Christian and Jewish subjects of Islamic states.
Previous versions of 'Venice and Islam: 828-1797' have appeared in Paris and New York, but this final homecoming edition of the exhibition provides an additional and valuable sense of context for the more than 150 paintings, drawings, prints, maps, books, textiles, carpets, carvings, pieces of glass, metalwork and other artifacts on display. (The show continues until Nov. 25.)
The venue, the Sala dello Scrutinio in the Doge's Palace, reveals the paradoxes of Venice's engagement with the Islamic world. This high-ceilinged, opulently gilded hall is lined with giant canvases celebrating the Serenissima's victories. The battle of Lepanto in 1571, in which a Western Holy League almost annihilated the Turkish fleet, is given pride of place. In fact, Venice seldom joined such alliances. It could not afford to: its prosperity, sometimes its very survival, depended on détente with Islamic rulers and keeping open the flow of commerce with them.
Venetian expertise in the assessment and handling of Eastern goods went far beyond trading pepper and other spices, commodities in which the city-state's merchants came to command a virtual monopoly until the Cape route was discovered. They were connoisseurs of all manner of luxury manufactures, from glass and ceramics to carpets and textiles, investing large sums in them, both for themselves and to sell on to the rest of Europe.
The Murano glass industry was founded on technology from the Islamic world, and long remained dependent on the importation of raw soda from the Levant. And as glassmaking there declined, Muslim buyers provided a ready market for Murano's products. On show here are two now extremely rare 15th-16th century cylindrical hanging lamps commonly used as votive lamps in Venice and as mosque lamps by the Ottomans. In 1569 the Turkish vizir Sokollu Mehmed Pasha ordered 600 of them from Murano, even providing a sketch to make sure they were of the correct type.
Meanwhile, the Venetians were the first Westerners to admire Iznik ceramics, and they remained very popular for more than a century. A lively local industry developed imitating the charming carnation, peony, hyacinth, tulip and elongated leaf motifs of these Turkish maiolica wares, though the full-blooded Iznik tomato red, from a rare Armenian dye, eluded them. A fascinating display here juxtaposes these Turkish and Venetian products.
Other precious pigments from Islamic lands were successfully obtained and added to the brightness and variety of Venetian artists' palettes, contributing to the revolution in Venetian painting.
Both finished textiles and raw cotton and silk were imported from the eastern Mediterranean, some of the latter to be woven into textiles appropriate to Islamic tastes then re-exported to the East. The sumptuous robes and ducal beretta of scarlet velvet and embroidered gold silk cloth, worn by the 15th-century Doge Francesco Foscari in a painting here, have the classic bold floral designs of Ottoman textiles being brought to Venice at that time. Such fabrics, also of Turkish manufacture, were widely employed in ecclesiastical vestments, as seen in some magnificent examples here.
A gorgeous piece of late 15th-century velvet on show, from the Metropolitan Museum, presents a typical case in that it is impossible to be sure if it was made in Venice or Bursa, the center of the Ottoman silk industry.
By the last quarter of the 15th century, Oriental carpets figured prominently in Venetian paintings, whether in images of the Madonna and saints or in family portraits in domestic settings. Lorenzo Lotto was one of a number of artists who went to great pains to render with loving precision these carpets, which were highly prized by their owners, and his 'Giovanni della Volta and his Family,' from the National Gallery in London, offers a striking example of this.
Among the actual Egyptian, Turkish and Persian carpets exhibited there is a splendid 16th-century Mamluk one from the Scuola di San Rocco, measuring more than 9.70 meters x 3.75 meters, or 30 feet by 12 feet.
Indeed, the city's 'scuole,' or charitable confraternities, were responsible in the late 15th and early 16th century for an explosion in the depiction of Oriental scenes, dress, architecture and artifacts. Many of the scuole's patron saints were of Eastern origin and the scuola members who commissioned these narrative cycles expected topographically convincing oriental settings, even if historically anachronistic.
While the 15th-century artist Jacopo Bellini had been a pioneer in introducing Oriental figures into compositions, his son Gentile worked in Istanbul between 1479 and 1481 as the guest of Mehmed the Conqueror. During that time he painted his famous portrait of the sultan, on loan here from the National Gallery in London, and made sketches that provided inspiration for numerous artists tackling Oriental scenes.
The centuries-long relationship with the East led to an 'Orientalization' of public buildings, the Doge's Palace itself being a prime example, strongly influencing domestic architecture, exterior and interior design, and giving rise to what is now dubbed Venetian Gothic, an exuberant blend of Northern and Oriental styles.
Even St. Mark's basilica, built when Venice was still a semi-autonomous outpost of the Byzantine empire, and originally modeled on the Holy Apostles church in Constantinople, underwent some extraordinary modifications. Its low-curving Byzantine domes were raised and given their present bulbous profiles in imitation of Mamluk mosques and tombs, and the church's grand portals were restructured to lend them a distinctly Moorish flavor. Venetian architects long continued to reproduce the modified St. Mark's basilica dome model. In the 16th century, Palladio added a pair of bell towers to his design for the Redentore church that echoed the slim elegant forms of Ottoman minarets.
But Gentile Bellini had already gone further in the cycle of canvases depicting St. Mark in Alexandria, executed mainly by him and his brother Giovanni for the Scuola di San Marco, of which both were members. In his enormous painting of St. Mark preaching (now regrettably separated from the rest of the cycle and kept at the Brera in Milan), Gentile produced a fantastic vision of St. Mark's Square, with a backdrop of a wildly Orientalized basilica and city skyline worthy of an illustration for 'The Arabian Nights.' Thus, in the artist's imagination, Alexandria and Venice, East and West, through the mystical intercession of the Evangelist addressing a mixed crowd of Christians and Muslims, truly became one.
---
First published: International Herald Tribune
© Roderick Conway Morris 1975-2023