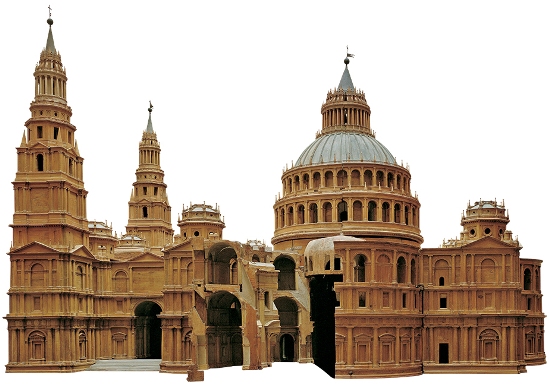 Museo Petriano, Vatican
Antonio da Sangallo the Younger's Model for St. Peter's in Rome, 1539-46
Renaissance Monuments and Models of Precision
---
| | |
| --- | --- |
| By Roderick Conway Morris | VENICE 11 June 1994 |
The colossal new basilica of St Peter's in Rome, intiated by Pope Julius II in 1506, took so long to build that the list of architects summoned successively to complete the project reads like a roll call of the Renaissance Greats: Bramante, Raphael, Peruzzi, Sangallo the Younger, Giulio Romano, Michelangelo - many of whom to a greater or lesser extent redesigned the church, often virtually tearing up, even as construction became ever more advanced, his predecessor's plans.
What St Peter's would have looked like had the 72-year-old Michelangelo not been called in to place his near-final, indelible stamp upon it, can be seen in the form of Antonio da Sangallo the Younger's spectacular 6-ton wooden architectural model (that measures over 7 metres by 6 metres, and is over 4 and a half metres tall, dominating the capacious atrium of Palazzo Grassi on the Grand Canal), at 'The Renaissance from Brunelleschi to Michelangelo: The Representation of Architecture', which runs until 6 November (with a period of closure between 18 July and 18 August, during which drawings will be substituted with alternatives for conservation reasons).
Sangallo's Mother of architectural models is one of 30 Renaissance originals (almost the sum total of what has come down to us, gathered together for the first time), which are shown along with dozens of relevant paintings, inlaid panels, manuscripts, medals, sculptures and over 100 drawings by Michelangelo, Bramante, Raphael and others. Architectural exhibitions are notoriously difficult to bring off successfully, but the juxtaposition of the models, in themselves fascinating and masterfully-crafted objects, and other relevant art-works (displayed with exceptional adroitness and unobtrusive ingenuity by the architect Mario Bellini and his team), creates an illuminating, multi-faceted picture of the aims and working methods of Renaissance architects.
If nothing else the exhibition reminds us of the inseparable relationship that then existed between architecture and the arts and crafts; indeed, architecture as a separate profession scarcely existed - the builders of genius of that age being, like Giotto, Francesco di Giorgio, Bramante, Raphael and Michelangelo, painters and sculptors in origin; or craftsmen, like Brunelleschi (a goldsmith) or Palladio (a stonemason). Increasing skills in drawing and perspective led to more daring, suggestive and accurate plans for buildings, the ideal cityscapes of the artists' fantasy in turn becoming ever-more attainable in the reality of wood, brick, stone and stucco.
Whether scale models existed in the ancient world, said Henry Millon of the National Gallery of Art in Washington, one of the exhibition's prime movers, and co-editor with Vittorio Magnago Lumpugnani of the show's outstanding and beautifully-illustrated catalog (Bompiani), is a matter for debate, since surviving examples and representations of them might well be votary or funerary offerings rather than prototypes. Architectural models were certainly being employed by the Middle Ages - though it was with the Renaissance that they came fully into their own.
Some models were used to develop the design in the studio, others to present the project to patrons or to be entered into competitions for commissions, and others still, like the Sangallo colussus (which has a wealth of structural and decorative detail), as an on-site guide to the masons, builders and craftsmen. By the time Leon Battista Alberti was writing his epoch-making architectural treatise and handbook 'De re aedificatoria' in the mid-15th century, the use of models was playing a key role in the new architecture, as the modern architect moved from initial concept through sketches and drawings to scale model, as a means of eliminating errors in design and proportions as they became apparent. This mode of thinking was, said Millon, mirrored by the poets and writers of the period, who also believed 'that the only way an idea becomes realized was in the saying of it, that the idea, as long as it remained in the mind, was still not fully formed.'
Models also enabled patrons to take a more influential and active part in the proceedings. 'When Brunelleschi presented his model of Palazzo Medici to Lorenzo, for example, after studying it, Lorenzo rejected it, 'said Millon. 'And when Bramante showed his model of St Peter's to the Pope, Julius too wanted something better. In this way models fired patrons' imaginations, making them push the architect to be even more ambitious.'
Sangallo's model of St Peter's, the most elaborate and detailed ever undertaken, took seven years to build, costing as much, as was noted at the time, as an actual church, and becoming almost an end itself. The architect, however, died shortly after its completion, and any hopes he might have had of assuring that his posthumous wishes would be realized by leaving behind such a clear indication of them, were dashed when Michelangelo took over.
Michelangelo dismissed the model on stylistic and religious grounds, making fun of its many intricate nooks and crannies, its 'dark hiding-places above and below... perfect lairs for delinquency, for forging money, raping nuns and other such roguery' - and maintaining that at least twenty-five men would be needed to search the building and ferret out lingering miscreants before it was closed every night. The model was duly consigned to various Vatican lumber rooms, where it gradually fell into decay, until after 450 years it was near to total collapse. Its rescue and renovation for the present show took three years - the saving of this evocative and thought-provoking construction being not the least of this remarkable exhibition's achievements.
---
First published: International Herald Tribune
© Roderick Conway Morris 1975-2023