An Elusive Master: 500 Years On
---
By Roderick Conway Morris
CASTELFRANCO VENETO 20 February 2010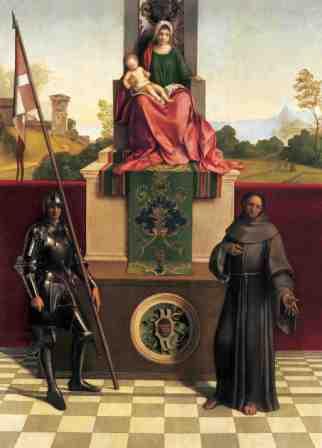 Duomo, Castelfranco Veneto
Castelfranco altarpiece by Giorgione
One of the few firm facts about Giorgione is that he came from Castelfranco, this still picturesque walled and moated medieval town on the Veneto plain northwest of Venice. Zorzi (the Venetian form of Giorgio) da Castelfranco (from Castelfranco) is how he was styled in the rare mentions of him in contemporary documents.
His nickname, Zorzon, or Giorgione (the great George), was first noted nearly 20 years after he succumbed to plague in Venice in 1510, when still in his early 30s. It appears in the manuscript inventory of an art collection and in print in Baldassare Castiglione's 'Book of the Courtier,' where the painter is cited among the greatest of the age along with Leonardo da Vinci, Mantegna, Raphael and Michelangelo. By then Giorgione had revolutionized Venetian painting, his influence being carried further afield by Titian, Sebastiano del Piombo, Palma il Vecchio, Lorenzo Lotto, Paris Bordon and others.
To mark the 500th anniversary of his death, Castelfranco is now hosting 'Giorgione,' an exhibition of over 120 paintings, drawings, engravings, marbles, bronzes, books and manuscripts at the Casa Giorgione Museum, the house next door to the Duomo in the central square, which according to local tradition was the artist's parental home.
The Duomo has Giorgione's only sizable altarpiece. This elegiac work is of an enthroned Madonna and Child accompanied by a warrior saint in armor and St. Francis, set against a summer landscape with semi-ruined castle and distant blue mountains. The light, in contrast to the crystalline, pellucid illumination of Giovanni Bellini's contemporary landscapes, has a warm, diffuse quality.
No Giorgione work is without some aura of mystery, but the Castelfranco altarpiece does offer some explanation. The panel was commissioned for the family chapel by Tuzio Costanzo, a knight who went on a military expedition in central Italy in 1499 with his son Matteo, who fell ill and died during it. The 'very perfect gentle knight' of the painting may well be a portrait or imaginary representation of him. (Matteo was buried in the chapel beneath a recumbent stone image of himself, but the facial features are now so worn down as to be almost indecipherable.)
Radiography has revealed that there was originally a broad step at the base of the Virgin's throne, later remodeled into a squarer sarcophagus-like structure bearing the Costanza family's coat of arms. And the angle of the Christ child's head was altered, to gaze down on the young knight standing next to this tomb. It seems likely that the commission was initiated before the ill-fated expedition and the altarpiece was adjusted in 1500 to make it a grieving father's memorial to his son.
In the Casa Giorgione itself, in pride of place, is one absolutely undisputed Giorgione, 'The Tempest' from the Accademia in Venice, possibly the most enigmatic painting of the very restricted oeuvre of paintings generally recognized as authentic.
Other loans widely accepted as his are 'The Three Ages of Man' from Palazzo Pitti in Florence and the National Gallery in London's 'Tramonto' (Sunset). Three others - 'Saturn in Exile' (National Gallery, London), the 'Trial of Moses' and 'The Judgment of Solomon' (both from the Uffizi) - are billed as being by the master himself but, along with other canvases in the 'Giorgione' section, are regarded as doubtful by many experts. Two lost pictures - 'The Finding (or Birth) of Paris' and 'Self-portrait as David with the Head of Goliath' - are represented by 17th-century engravings.
'Sfide' (Challenges), the following section, contains seven Giorgionesque works, among them 'Christ Carrying the Cross' from the Scuola di San Rocco in Venice (often attributed to Titian), and 'Concerto' (Concert) from the Mattioli Collection in Milan, which has been held to be by Giorgione by some, especially Italian, art historians.
Casa Giorgione's central hall is enlivened by two monochrome fresco friezes, facing each other on the east and west walls, just below ceiling level. They display symbols of the liberal and mechanical arts - books, musical instruments, arms and armor, riding equipment, astrological spheres, Latin inscriptions on trompe-l'oeil tablets, masks and medallions with portraits and figures.
The frescoes are evidently by more than one hand, and it is conceivable that Giorgione's own brush can be detected in them, particularly in the medallions, but his significant or even partial contribution to these cycles, intriguing and evocative of his times though they are, is by no means universally acknowledged.
None of Giorgione's works is signed, but an inscription on the back of the 'Laura' portrait, which is now in Vienna, dates the work to 1506 and attributes it to Maestro Zorzi da Castelfranco, describing him as 'cholega' (colleague) of Maestro Vincenzo Catena, a gentleman painter and collector, well-connected in Venetian humanist circles and the recipient of prestigious commissions, from the formidable Doge Leonardo Loredan, among others.
A 'Sacred Conversation' and 'Portrait of a Young Gentleman' in the final section of the exhibition show how accomplished an artist Catena was. Catena was also the owner of a set of allegorical pictures by Giovanni Bellini, one of which, 'Vanity,' is on loan here from the Accademia in Venice.
The use of the word 'colleague' in the 'Laura' inscription implies a level of social and professional equality between Giorgione and Catena, who was his superior by birth. There is no record that Giorgione ever had a conventional studio of his own, but it is possible that he was given space at Catena's studio in San Bartolomeo at Rialto. Catena's collection, which also included (according to Catena's will of 1515) terra-cotta nudes, would have been a valuable resource for Giorgione, especially when planning his frescoes of nudes for the facade of the Fondaco dei Tedeschi (German Warehouse) by the Rialto bridge, which he completed in 1508, but of which only a few detached fragments now exist.
One of the most suggestive elements of the exhibition is a series of fascinating drawings and engravings by the draftsman and printmaker Giulio Campagnola, whose works were close in spirit and style to those of Giorgione. Campagnola, a Paduan scholar and artist who had spent time at the court of Ferrara, was active in Venice in and around 1507.
Campagnola was a musician, knew Latin and Greek, and invented the 'stipple' engraving technique, conveying shadings with dots, an ideal method of reproducing the 'soft-focus' effects of Giorgione's paintings. Albrecht Dürer, who was in Venice in 1505-06, had a marked influence on Giorgione, Campagnola and many other Italian artists and is featured here with a selection of relevant prints.
Figures such as Catena and Campagnola emerge here as links between Giorgione and the connoisseurs among Venice's humanist elite who became his patrons. The Venetian nobleman Marcantonio Michiel possessed a Giorgione drawing and painting of nudes. His notes on his own and other Venetian collections indicate that of the 15 Giorgiones he records, only 4 were of religious subjects and 6 had landscape settings.
These observations highlight how the advanced ideas of Venice's intellectuals contributed to the content of Giorgione's works, and how the receptiveness of local collectors to the artist's lyrical, innovative compositions enabled the master from Castelfranco to pursue a career primarily as a painter of the mythical and profane rather than of sacred themes.
---
First published: International Herald Tribune
© Roderick Conway Morris 1975-2023