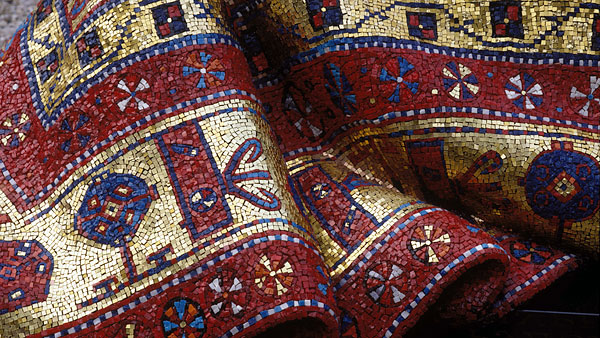 Daniele Casadio
Detail of Akomena's sepulcher for Rudolf Nureyev
at the Russian cemetery at Sainte-Geneviève-des-Bois, near Paris.
Akomena: Masters of Modern Mosaic
---
| | |
| --- | --- |
| By Roderick Conway Morris | RAVENNA, Italy 4 December 2008 |
The ancient art of mosaic might seem an unlikely medium for contemporary artistic expression, but Francesca Fabbri has shown it can be just that.
Two decades ago this month, at the age of 25, she founded Akomena, a studio dedicated to making works of contemporary art and design using traditional glass and stone mosaic. Akomena took its name from the signature of a mosaicist found in a fragment of Roman mosaic in north Africa.
Fabbri learned the technique of mosaic at the Fine Arts Academy of Ravenna. One of her teachers there was Giuliano Babini, whom she invited to become Akomena's artistic director in 1990, and with whom she has collaborated closely ever since.
The earliest known mosaics date to the eighth century B.C. in Asia Minor and were used on floors, imitating carpet designs. Thus, a playful trompe l'oeil illusionism, a miraculous rendering of soft, pliable, impermanent materials in the hard, enduring tesserae of glass paste and marble, goes right back to the earliest days of humanity. It continues to be a guiding light in Akomena's works.
In 1996, a confluence of disparate talents came together to create a monument for Rudolf Nureyev. The Nureyev Foundation commissioned the dancer-choreographer's friend, architect and set designer Ezio Frigerio to design a sepulcher for Nureyev's burial place in the Russian cemetery at Sainte-Geneviève-des-Bois, near Paris. Frigerio had the inspired idea of commemorating the life of the restless, nomadic artist from Central Asia with a simple sarcophagus, covered with an illusory oriental carpet, the pattern based on one of the dancer's favorite pieces from his own collection.
Colorful, exuberant, eternally bright and sparkling, mosaic emerged as the ideal medium for the monument, and Akomena won the competition to execute it.
It took Fabbri and four assistants four months to complete this complex, undulating, light-refracting design, for which they used 20 different shades of red and a dozen of gold alone. The result is one of the most original, beautiful and apt funerary sculptures ever made.
The unexpected and the surreal have never been far in Akomena's projects. Working in collaboration with like-minded designers and architects, the studio's first decade produced, among others, Luigi Serafini's oddball 'Fish Table' in 1990; Ugo La Pietra's 'Il grande sonno' (The Big Sleep), a squashy-looking mosaic quilt and pillow on a spartan metal-framed bed, in 1991; Ettore Sottsass's Toytown 'Magic Room' for the Museum of Contemporary Furnishings at Russi, near Ravenna, in 1994; and, in 1996, Sottsass's collection of mosaic-faced cabinets, among them one in gold and turquoise with a large padlock, for 'storing love letters.'
This early period also saw one of Akomena's witty homegrown pieces, 'X Rosa' (For a Rose), a low, round table surfaced with glass-paste, blue-gray tesserae, with an inlaid spiral of white marble, erupting into a mini volcano, the crater of which provides a perfect receptacle for a single rose. This was the prototype of a series, 'Mabel's Tables,' that subverted the notion that tables should be flat.
Interior design projects with architects, including Lucio Zotti and Marco Lucchi, for shops, offices, disco bars and nightclubs were realized in Milan, Turin, Sardinia, Croatia and resorts on the Adriatic coast. Later undertakings included facades and murals for coffee shops in Korea.
The threshold of Akomena's second decade was marked by growing self-assurance and a determination to originate as well as execute more projects and to subvert the distinctions between design objects and art.
Manifestations of this evolution can be seen in two examples from 1997: the 'Pipe-pipe' minimalist sculptures made of industrial steel pipes and white Carrara marble mosaic, with spirals of gold mosaic and jet-black Marquina marble; and 'Stone Carpets,' a series of black-and-white marble mosaics on flexible backings, which can be combined to form different configurations.
Experiments in blurring the borders between soft and hard gave rise in 2001 to 'Sassoft,' a surreal collection of comfortable furnishings covered with pebbles (sassi in Italian) that were embedded in especially developed soft supports. Exotic 'Animal Skin' floor-coverings, mimicking the coats of giraffes, zebras, leopards and tigers, followed in 2003.
Fabbri draws constant inspiration from Ravenna's fabulous heritage of mosaics, which were used to adorn the city during the rule of the enlightened Gothic king Theodoric and the Byzantine exarchs in the fifth and sixth centuries A.D. That inspiration is reflected in some of the titles of her latest pieces, in which the coruscating light and sculptural effects of her works reach new heights of subtlety and sophistication.
Her 'Amalasunta' bed takes its name from the daughter of Theodoric, regent after his death. Here the sumptuous but rigid gold of the supporting upright slab of the headboard, with a fairly regular pattern of tesserae, is dramatically contrasted with the illusory folds of a cascade of white-gold mosaic drapery.
Cassiodorus, Theodoric's secretary and the historian of his reign, lends his name to a gorgeous circular gold table with mesmerizing mosaic patterns, full of sinuous, interwoven and spiraling forms that can be kaleidoscopically varied by revolving the table's raised central disk.
To celebrate Akomena's coming of age, Fabbri has conjured up an octet of 'Puttini,' or Little Cupids. Depictions of putti, or ebullient infants, go back to ancient Egypt and beyond. They were very popular in Roman floor mosaics and murals, successfully made the transition into Christian and Renaissance art and ran riot in Baroque and Rococo decoration.
Fabbri's putti have frolicked into the third millennium, fooling around amid modern advertising campaigns and brand names to prove that, to be contemporary, you don't have to throw all the artistic babies out with the bath water.
---
First published: International Herald Tribune
© Roderick Conway Morris 1975-2023