Greater than Michelangelo?
---
By Roderick Conway Morris
FLORENCE 19 May 2006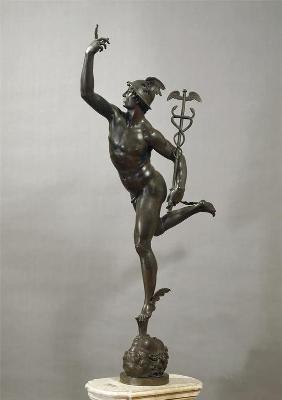 Bargello, Florence
Mercury by Giambologna, c.1565
Joshua Reynolds thought Giambologna a greater sculptor than Michelangelo, an opinion one suspects shared - although it would have been, and perhaps still is, virtual sacrilege to say so - by some of the Italian artist's contemporaries, including the Medici Grand Dukes who were his principal patrons.
Why, then, is Giambologna - the essential bridge between the eras of Michelangelo and Bernini, the High Renaissance and the Baroque, and the man who advanced Western sculpture in so many ways - the least familiar of the three great titans of Italian sculpture?
Michelangelo has benefited from the notion fostered by Romanticism that artistic geniuses should be tortured, brooding and preferably a bit mad, while Bernini, at least since the revival of interest in the Baroque, has come to embody the quintessential Baroque Man. Giambologna was altogether more self-effacing, in his own estimation more a man of deeds than words. Reared in Flanders as Jean Boulogne (his name was later Italianized), he never seems fully to have mastered either the spoken or written language of his adopted home. While poetry and letters poured from the pen of Michelangelo and his truculence and fits of temperament became legendary, Giambologna seldom committed himself to paper, expertly ran a large studio and foundries, had harmonious relations with his patrons and prided himself on delivering complex and perfectly executed works as promised, and on time.
Not that the Franco-Flemish artist was lacking in ambition. He set out to surpass Michelangelo, and it was perspicacious of Reynolds, an independent thinker whose tastes were often well in advance of his times, to understand the scale of Giambologna's achievement.
Giambologna's relative eclipse may have been partly because he was not a native-born Italian, and indeed the first serious study of his life and works was initiated in 19th-century France. Nonetheless, it is slightly astonishing that 'Giambologna: Gods and Heroes' at the Bargello Museum is the first-ever Italian exhibition devoted to him. Firmly based on the Bargello's superlative permanent collection of his pieces, but with many important loans from elsewhere, the show continues until June 15 and should encourage visitors to go in search of his many additional works that adorn buildings, squares and gardens around the city.The sculptor was born in Douai (now in France) in 1529, and he apprenticed in Flanders. His master had spent time in Italy, and Italian works could be seen locally. It was a logical step for Giambologna to broaden his horizons by journeying south to see the great Classical and Renaissance works. In Rome, so tradition goes, he met the aged Michelangelo and showed him one of his wax or clay models. The grand old man is supposed to have said it was overfinished before the basic form had been satisfactorily explored. However, it appears that at least one of these models was seen by the discriminating Florentine collector Bernardo Vecchietti, who spotted a remarkable talent, offering support to the young man to continue his studies in Florence. He arrived there in 1556 at age 27, was persuaded to continue his stay and ended up remaining until his death in 1608.
Key examples of Hellenistic sculpture, unseen by previous generations of Italian artists, had been unearthed during the years before Giambologna's arrival in Italy, and he appreciated to an unusual degree the implications of these revelatory finds that represented new forms of dynamism, of figures and groups of figures in action.
Within five years of coming to Florence, Giambologna had become the official Medici court sculptor. The Grand Dukes were both demanding and generous in providing the resources for increasingly diverse and daring projects. Commissions included an extraordinary, languidly serpentine figure of Apollo for Duke Francesco's private study; moulds for exquisite, cameolike reliefs of the Duke's life and works; a series of captivating Venuses and colossal statues for Florentine gardens and fountains; small bronzes to be sent to foreign courts as diplomatic gifts; life-sized animals; monumental marbles of two or more figures; portrait busts, and equestrian statues.
Though he had little or no previous experience sculpting in marble, Giambologna was a supreme artist in bronze, a medium never employed by Michelangelo. However, he soon set about tackling marble and became amaster in this medium as well. It was in marble that he created his most vertiginous, spiraling composition, the 'Rape of the Sabine,' for the Loggia dei Lanzi of the Uffizi: a Herculean young man standing astride the crouching figure of his vanquished older rival, lifting a deliciously curvaceous young woman high in the air, like a prima ballerina projected aloft by her male partner at the climax of some thrilling dance drama. With no primary viewing point but designed to be seen from every side and angle, this was a landmark in sculpture, ancient and modern.
The display of such riotous nudity in a public place - the city's main square, no less - was, of course, sanctioned by its putative Classical theme. Yet for Giambologna the particular mythical event was unimportant, his essential aim being to produce a tour de force combination of three figures intertwined in violent action in wildly different poses, swirling upward in Michelangelo's ideal 'flamelike' formation. Even the title of the piece was only settled upon some time after its completion. Thus Medicean Florence offered the sculptor the freedom to create art for art's sake and pursue dreams some of which Michelangelo had shared but never realized, such as unified multifigure compositions, and others that derived from Giambologna's own determination to expand the boundaries of three-dimensional art.
More directly political than Giambologna's Classical pieces were the great bronze equestrian statues of Cosimo I Medici in Piazza della Signoria and of Ferdinand I in Piazza Santissima Annunziata. So impressive were his equestrian statues in Florence (and an alternative version based on his model of a rearing horse, taken up after his death) that these became the models for such monuments throughout Europe.
Just as Giambologna provided the paradigm for equestrian monuments, his figures of male and female nudes - given wide currency by the export of scores of his smaller-scale bronzes - came to be thought of as the epitome of grace and beauty in statuary. In both these realms, the ubiquity of these prototypes has much obscured the originality of the artist who created them.
But Giambologna's most famous single image - though few would be able instantly to name its author - must surely be his 'Mercury,' which exists in several versions. It has been used as an emblem in circumstances as diverse as the cap badge of the British Army's Royal Corps of Signals and (in a modified form) as the logo of Interflora. Here the illusion of motion is created by a brilliant combination of elements from the closely observed tension of the musculature to the incredible sense of lightness produced by the minute area of contact between the statue and its base. This slender athletic figure, poised on the ball of one foot, though made of metal, seems to be soaring through the air. The effect is positively exhilarating.
---
First published: International Herald Tribune
© Roderick Conway Morris 1975-2023