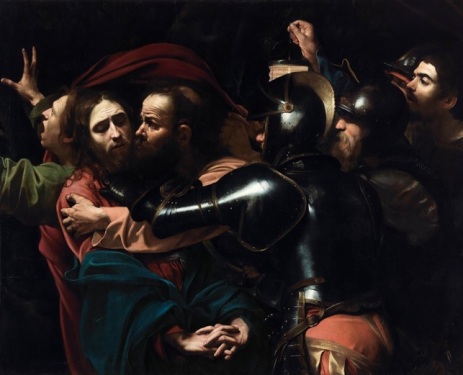 National Gallery of Ireland, Dublin
The Taking of Christ by Caravaggio, 1602
Beyond Caravaggio
---
| | |
| --- | --- |
| By Roderick Conway Morris | LONDON 9 November 2016 |
And indeed, in a career that lasted less than 20 years and produced around 80 to 90 canvases, Michelangelo Merisi da Caravaggio created new ways of seeing that had a profound effect on artists all over Europe.
The waves that the Caravaggian revolution sent out in the first decades of the 17th century are the subject of 'Beyond Caravaggio,' a revealing exhibition at the National Gallery here of nearly 50 works, six by the master himself and the remainder by Dutch, Flemish, French, Italian and Spanish artists inspired and influenced by him. Almost all the works are from public and private collections in the British Isles, and when the exhibition closes on Jan. 15, it will travel to the National Galleries in Dublin (February to May) and Edinburgh (June to September).
In 1592 at the age of around 20, Caravaggio arrived in Rome, where he struggled for some years to make a living, assisting in at least two studios: that of Antiveduto Gramatica, where — according to the 17th-century biographer Pietro Bellori — he did 'half-length figures'; and that of Giuseppe Cesari, known as Cavaliere d'Arpino, in which he was employed 'to paint flowers and fruits.
Still-life painting was then regarded in Rome as a lowly genre, but not by Caravaggio, as is witnessed by the care with which he depicted these elements in the first work in the exhibition, 'Boy Peeling Fruit.' On loan from the Royal Collection at Windsor, and dating from 1592-93, it is thought to be the artist's earliest surviving work.
As his patron Vincenzo Giustiniani later recalled, Caravaggio said that it took as much skill 'to do a good picture of flowers as of figures.' This is also reflected in 'Boy Bitten by a Lizard' of a year or so later, which is thought by some scholars to be a self-portrait.
Caravaggio never had a conventional studio of the kind that nurtured students who would go on to disseminate the master's style, but the new manner he was pioneering soon had an impact on his fellow artists in Rome. Particularly influential were his use of live models, raking light effects and dramatic chiaroscuros, and a strong narrative drive.
The turning point in the artist's career came in 1599 when he received his first public commission, to paint 'The Calling' and 'The Martyrdom of Saint Matthew' for the Contarelli chapel of San Luigi dei Francesi in Rome, his first major, multifigure religious compositions. The sensational originality of these attracted private commissions, notably from Cardinal Francesco Maria del Monte, Marchese Vincenzo Giustiniani, Cardinal Scipione Borghese and Ciriaco Mattei.
Mattei commissioned for his palazzo the two highly charged biblical scenes on display in the second room, 'The Supper at Emmaus' (1601) and 'The Taking of Christ' (1602). 'The Taking of Christ,' the most significant rediscovery in recent decades of a major work by the artist, had been hanging on a wall in a Jesuit House in Dublin since the 1930s. It was first identified as a lost Caravaggio by Sergio Benedetti of the National Gallery of Ireland in the early 1990s and is now on permanent loan to the institution.
A combination of admiration for Caravaggio's innovations and the marketability of works in this style encouraged numerous artists in Rome to adopt the new manner. This is demonstrated by the diverse works that accompany Caravaggio's own canvases in these opening sections of the show, which was curated by Letizia Treves. Early examples include Giovanni Baglione's 'Ecstasy of St. Francis' (1601), clearly derived from a Caravaggio now at the Wadsworth Atheneum in Hartford, and Orazio Gentile's 'David and Goliath' (1605-8).
But no less interesting are the increasingly varied paths taken by Caravaggesque painters in the decades after his death in 1610. In 'Christ Displaying His Wounds' (around 1625-35), for example, Giovanni Antonio Galli, known as Lo Spadarino, gives an even more graphic depiction of the gash in Jesus's side than Caravaggio does in his 'Incredulity of St. Thomas,' dispensing with Thomas and the other disciples to make us, the viewers, the witnesses to this gruesome wound.
Caravaggio fled Rome in 1606, after fatally injuring an opponent in a brawl, then spent two periods in Naples, in 1606-7 and 1609-10. His 'Salome Receives the Head of John the Baptist' introduces a section demonstrating how his influence initiated a distinct school of painting there, despite the brevity of his sojourns. There are major works by its primary exponents, the Spanish-born Jusepe de Ribera and Mattia Preti, cogently illustrating how both opened up new avenues beyond the mere 'Caravaggesque.'
Caravaggio never himself used candlelight to illuminate a scene. The closest he came was in 'The Taking of Christ,' which includes a bystander who holds aloft a lantern lighting up his own face (a self-portrait of the artist). But his striking experiments in directing natural light sources to enhance chiaroscuros gave rise to countless candlelit compositions by painters who fell under his spell — some who were exposed to his works in Italy and others who imbibed his ideas from afar. These works are brilliantly represented by enchanting and atmospheric examples in the final sections of the show: 'The International Caravaggesque Movement' and 'Caravaggio's Legacy.'
They include pieces by the 'Utrecht Caravaggists' Hendrick ter Brugghen, Dirck van Baburen and Gerrit van Honthorst. Van Honthorst became so closely associated with nocturnal scenes that in Italy he acquired the nickname Gherardo delle Notti. Also on display is 'St. Sebastian' by Nicolas Régnier, to which the swooning pose of the athletic young saint and the décolletés of his nurses lend a potent erotic suggestiveness; and Georges de la Tour's 'Dice-Players' (1650-1), probably his last picture, completed by his studio.
Outstanding here is the little-known 'Tobias and the Angel' of around 1620-30, in the last room of the show. On loan from Corsham Court at Chippenham in the English county of Wiltshire, this beautifully executed and touching study of an adolescent angel guiding his earnest young charge was long attributed to Caravaggio himself. Other artists — Dutch, German, Italian and Spanish — have now been proposed, but both its author and country of origin remain a mystery.
Beyond Caravaggio. National Gallery, London, to Jan. 15; National Gallery, Dublin Feb. 11-May 14; National Gallery, Edinburgh, June 17-Sept. 24.
---
First published: New York Times International Edition
© Roderick Conway Morris 1975-2023