Reflections: Van Eyck and the Pre-Raphaelites
---
By Roderick Conway Morris
LONDON 10 November 2017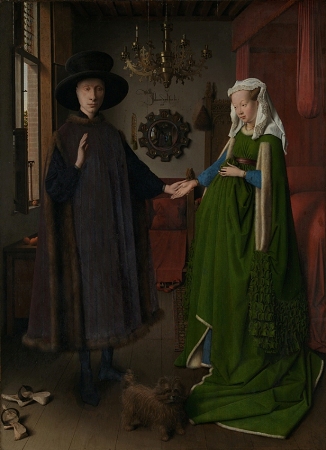 National Gallery, London
Portrait of Giovanni Arnolfini with his Wife
by Jan van Eyck, 1434
'As a young man I have stood before that picture of the man and his wife, and made up my mind to do something as deep and rich in colour and beautifully finished in painting,' wrote William Holman Hunt, recording decades later the revelatory effect of encountering Jan Van Eyck's 'Arnolfini Portrait' at the National Gallery in the 1840s.
This enlightening exhibition, of which Van Eyck's exquisite double portrait of an Italian merchant and his wife, painted in Bruges in 1434, forms the centrepiece, amply demonstrates that the impact of the picture was no less powerful on Dante Gabriel Rossetti and John Everett Millais, with whom Holman Hunt founded the Pre-Raphaelite Brotherhood in 1848.
The founders of the group were students at the Royal Academy Schools, which then occupied the east wing of the National Gallery. The Gallery had acquired the Van Eyck in 1842, and with two further portraits by him added in the 1850s, the Gallery remains the only collection in Britain with works by this Flemish master.
The Brotherhood was rebelling against the academic art of the period, seeking to return art to what they saw as its pristine innocence before its corruption during the High Renaissance and after. They attempted to do this by producing brightly lit, minutely detailed images, devoid of the more mannered styles of later painting. Despite the name they chose, which suggested a return to the qualities of early Italian painting, these young artists had, in fact, had little opportunity to see the works of Italian artists before the era of Raphael - at the time dismissively described as 'Italian Primitives' - except in the form of monochrome engravings.
But thanks to the National Gallery's acquisitions they could study 'Pre-Raphaelite' Flemish art in all its beauty and colourful glory, and its spell on them is unfolded here in a fine gathering of works by the original PRBs, by later members and associates of the group - notably Ford Madox Brown, Edward Burne-Jones and William Morris - and by artists subsequently influenced by them. An intriguing feature of the 'Arnolfini Portrait' was a convex mirror, in which Van Eyck himself is reflected in miniature coming into the room.
This device was enthusiastically taken up by many of these 19th-century painters. Rossetti had so many mirrors in his Chelsea house that his assistant complained: 'whichever way I looked I saw myself looking at myself'.
Reflections: Van Eyck and the Pre-Raphaelites; National Gallery, London; 2 October 2017 - 2 April 2018
---
First published: The Lady
© Roderick Conway Morris 1975-2023