Making an indelible impression
---
By Roderick Conway Morris
OXFORD 6 April 2022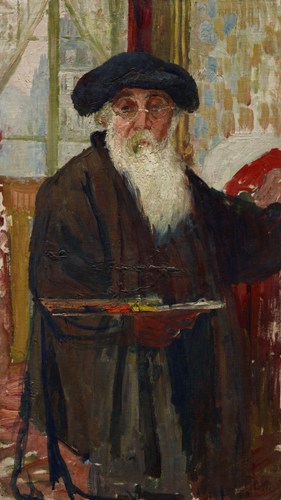 Dallas Museum of Art
Self-portrait with Palette by Camille Pissarro,
c.1896
'Happy are those who see beauty in modest places where others see nothing. Everything is beautiful, the whole secret lies in knowing how to interpret it,' wrote Camille Pissarro, recalling his first encounter with the work of the landscape painter Corot when Pissarro arrived as an aspiring young artist in Paris in 1855.
Corot had already done much to transform French landscape painting, but Pissarro would himself go on to play a unique role in the next major revolution in the genre, which came to be called Impressionism. Pissarro was the only artist to exhibit at all the eight Impressionist Exhibitions between 1874 and 1886, and every member of the movement was influenced by him in some way.
Nonetheless, Pissarro has in recent years received far less attention than other members of the movement - notably Cézanne, Degas, Monet and Renoir. 'Pissarro: Father of Impressionism' at the Ashmolean Museum in Oxford, which includes key pieces by Cézanne, Degas, Gauguin, Sisley, Seurat, Signac and Van Gogh, provides a refreshing reassessment of Pissarro's profound impact on his contemporaries. The show is curated by Colin Harrison, who has co-authored the catalogue with Linda Whitely.
Camille Pissarro was born in the Danish Caribbean colony of St Thomas in 1830, into a family of Sephardic Jewish ancestry who had settled in France in the 18th century. Despite their expectation that he would come back to join the family business after finishing his secondary education in France, his parents reluctantly allowed him to return to Paris in 1855 to pursue his artistic ambitions. There he got to know Cézanne, Manet, Monet and Renoir.
In 1860 he met Julie Vellay, who was employed as a servant his parent's household (they had by this time followed their son to Paris) and with whom he began a relationship, which led to her dismissal. In 1863 she gave birth to the first of their eight children - five of whom survived into adulthood - but the couple did not marry until 1871 (in London). One of the artist's most poignant and unforgettable images is a portrait of his daughter Jeanne (known as Minette) Holding a Doll, made shortly before she died in 1874, just before her tenth birthday.
Pissarro encouraged all his children to follow artistic careers and their progress remained as important to him as his own. But he also extended this paternal attitude to the often much younger artists he befriended, leading Cézanne later to remark that Pissarro had been 'the father of us all'.
In 1866, the ever-expanding Pissarro family moved out of Paris to the nearby market town of Pontoise, which offered the kind of rural scenes that most interested him. When he showed his 'Côte du Jallais, Pontoise', at the Paris Salon in 1868, Emile Zola, a boyhood friend of Cézanne and habitué of his artistic circle, wrote of it: 'This is the modern countryside. We feel that man has been here, digging the earth, and dividing it, touching the horizon with sadness. This valley, this hill have a heroic simplicity and candour. Nothing would be more banal were it not so grand.'
In 1869 the family moved to Louveciennes, closer to Paris but still sufficiently rustic and convenient for Bougival, a popular boating resort on the Seine where his friends Monet and Renoir were painting. Here, Pissarro began to adopt a new way of working, with a brighter palette and more visible brushstrokes. However, the Franco-Prussian War of 1870-1 forced the artist to abandon his studio in Louveciennes in the face of the invading troops and he took refuge in London. Among other exiled artists who joined him there was Monet.
The two painters continued to experiment, Pissarro employing this emerging 'impressionist' style to depict the London suburbs of Norwood, Crystal Palace and Sydenham, while Monet concentrated on vistas of the Thames and the capital's parks. It was in London that both artists were taken up by the Paris gallerist Paul Durand-Ruel, who was to become the Impressionists' dealer par excellence.
Pissarro and family returned to Louveciennes in the summer of 1871 to find his studio ransacked by the Prussian invaders and only 40 of the 1500 paintings he had left behind intact. The following year the family moved back to Pointoise, where for many months he worked closely with Cézanne. Such collaborations finally resulted in 1874 in the First Impressionist Exhibition, in the organizing of which Pissarro was a prime mover. The term 'Impressionists' was first used in a dismissive manner in the title of a hostile review of the first show, but it stuck and the artists themselves had come to embrace it by their third group outing in 1877.
It is wholly in keeping with Pissarro's attitude to art and innovation that when two young advocates of an entirely new way of painting, Georges Seurat and Paul Signac came on the scene, Pissarro welcomed the development. The technique was known variously as the 'dot' method, pointillism, divisionism and Neo-Impressionism. It was based on scientific discoveries about the nature of light and used the juxtaposing of dots or tiny blocks of colour to build up the image.
Pissarro wrote to his son Lucien: 'I am totally convinced of the progressive nature of this art, and certain that in time it will yield extraordinary results.' Indeed, Pissarro went on to create his own pointillist images and the technique continued to inform his style even when he reverted to his more customary Impressionist manner until his death in 1903. Significantly, Seurat claimed it was examining the brushstrokes of Pissarro's gouache paintings that first alerted him to pointillism's possibilities.
At Pissarro's invitation, and in the face of opposition from other Impressionists, Signac showed eighteen pictures and Seurat seven, including 'La Grand Jatte', at the eighth and last Impressionist Exhibition in 1886, which were displayed in a separate room along with works by Pissarro and his son Lucien.
Pissarro: Father of Impressionism; Ashmolean, Oxford: 18 February - 12 June 2022
---
First published: The Lady
© Roderick Conway Morris 1975-2023