A Florentine Princess on the Throne of France
---
By Roderick Conway Morris
FLORENCE 30 July 2005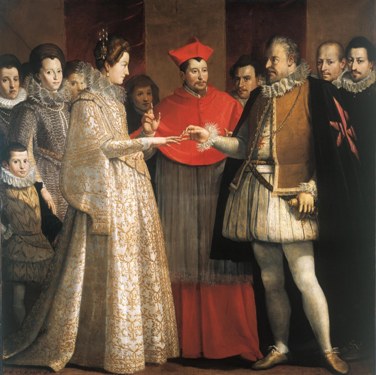 Uffizi, Florence
Marriage by proxy of Maria de' Medici to
Henry IV of France by Jacopo da Empoli,1600
Of the two Medici queens of France, Catherine, wife of Henry II, is easily the most famous, or rather notorious, on account of her part in inciting the St. Bartholomew's Day Massacre, the wholesale slaughter of Paris's Protestants, begun on Aug. 24, 1572.
Twenty-eight years later, Marie de' Medici married Henry IV, whose Edict of Nantes of 1598 had declared freedom of conscience. Marie's influence on France was more benign, but after the triumph of her rival Cardinal de Richelieu, her reputation was systematically blackened. As the details of the endless court squabbles, machinations and petty intrigues that led to her final disgrace faded, without any genuine atrocities to her name, Marie became little more than an historical footnote.
Over the last few years a group of French and Italian scholars has been re-evaluating her life. This led to an exhibition in 2003 at the Château de Blois, where Marie was imprisoned for a spell. A new version of the event, called 'Maria de' Medici: A Florentine Princess on the Throne of France' - with additional sections on her early life and background - is now being held at the Palazzo Pitti, in the city where she was born in 1573 and raised. (The show continues until Sept. 6.)
In 1555, after the decisive defeat of his republican opponents, Cosimo de' Medici established himself and his clan as the absolute rulers of Tuscany. In 1569, the pope conferred on him the title Grand Duke while recognizing the family's hereditary right to rule the state. The holy Roman emperor following suit two years later.
This was only the beginning for the ferociously ambitious Medici, who were determined to make themselves major players on the world's political stage.
When Michelangelo died in Rome in 1564, despite the artist's well-known republican sympathies, Cosimo hastened to have his body brought back to Florence, where he was interred with the honors of a new type of patron saint for a new age. This act was richly symbolic of the Medici's particularly single-minded use of art, artists and their productions as tools of diplomacy and the means of glorifying their family and the state, over which they now had absolute power.
Another major instrument of policy, which they had wielded with considerable skill even before their elevation to Grand Ducal status - this definitively put them in the big league - was dynastic marriage. Medici daughters received exceptional levels of education, an investment calculated to raise their eligibility on the international marriage market and to equip them to hold their own and promote Medici interests once established in foreign courts.
In power-politics terms, the marriage of Marie's elder sister, Eleonora, to their cousin Vincenzo Gonzaga, Duke of Mantua, in 1584, was a relatively modest match. Yet Mantua's importance as a diplomatic crossroads and, above all, as a cultural center was much greater than its small territorial size might suggest. Between them, Vincenzo and Eleonora made the acquisitions that consolidated the Gonzaga collection's supremacy as the finest in Europe, buying the best of contemporary art from Caravaggio to El Greco, Frans Pourbus and Peter Paul Rubens.
Although only 11 years old when Eleonora left Florence, Marie kept in constant touch with her sister, read the same books, shared her ideas. In due course, Eleonora provided her admiring younger sibling with an ideal model of a female, independent-minded patron of the arts.
Marie's magnificent wedding by proxy to Henry IV in Florence in 1600 featured, among numerous other entertainments, a performance of the first opera that has come down to us, 'Euridice,' scored by Jacopo Peri and Giulio Caccini. (Monterverdi's 'Orfeo,' the first true operatic masterpiece, was staged in Mantua in 1607.) Later it was Marie who was mainly responsible for introducing this hybrid new genre into France.
Accompanied by a retinue of nobles, including her sister Eleonora and the Duke of Mantua, Marie sailed in an armada of galleys for Marseille with more than 300 courtiers, priests, musicians, craftsmen, servants, paintings, clocks, ornaments, furnishings and trunkloads of jewels, clothes and furs. Her dowry amounted to 600,000 gold scudos, sufficient to wipe out more than half of France's national debt, with the promise of 20,000 more a year thereafter.
When her husband was assassinated in 1610, Marie became the regent of her underage son, Louis XIII, until he came of age four years later. In 1611 she conceived of a project that, had it remained as it was when completed, would have served as a monument to her artistic patronage: the Palais du Luxembourg.
Her first historic misfortune was that part of the land she purchased for the scheme was occupied by the town house of the Duke of Luxembourg, and even when the much grander new palace was built and the gardens laid out in the style of the Boboli gardens behind the Palazzo Pitti in Florence, the old name stuck.
Work began in 1615, but Marie was ultimately only able to live in the palace on which she lavished so much money and attention for a little more than two years, between 1628 and 1631, when she was finally driven from France.
The ensemble of palace and gardens remains one of the capital's finest baroque legacies and most popular resorts of the Parisians. But the interiors once provided an extraordinary 'tour d'horizon' of the painting and decorative arts of the period. Marie gathered artists and their works from near and far to embellish the rooms: Philippe de Champaigne, Simon Vouet (whose studies in Rome Marie had financed) and Nicolas Poussin, Orazio Gentileschi, Guido Reni, Guercino and Giovanni Baglione.
Following her sister Eleonora's lead, Marie called upon Rubens to execute 24 huge and sumptuous canvases for a gallery in one of the palace's wings, raising the story of her own life to mythic proportions. They were delivered between 1623 and 1625, introducing the artist in a dramatic fashion and on a grand scale to France. They are now at the Louvre, along with some other works she acquired, while the rest were widely dispersed.
In later years the palace became a royal guesthouse, revolutionary prison, home of the Napoleonic National Assembly and, during the Third Republic, the Senate, almost totally erasing Marie's personal stamp once evident throughout the building.
The young Poussin was stimulated to travel to Italy by his experiences working at the Palais de Luxembourg, and Florence was his first destination. But such was the number of works that Marie's patronage brought to Paris that the next generation of French painters ceased to feel the same pressure to make the journey south, now having an unprecedented choice of examples on their own doorstep. The beginning of the rise of Paris as an independent artistic center of international renown can be dated back to this period, and Marie's contribution was notable.
In 1631, Marie's long struggle with Richelieu came to an end, despite Rubens's 11th-hour appeals to the Spanish court to support her cause against the cardinal. She was imprisoned but escaped abroad, never to return. She died in 1641 in Cologne, a year before her son the king. Ironically, Richelieu's artistic tastes had been strongly influenced by her when he was a favorite during his formative years at court and continued to bear her mark.
---
First published: International Herald Tribune
© Roderick Conway Morris 1975-2023