Artists and the looking glass
---
By Roderick Conway Morris
FLORENCE 30 October 2004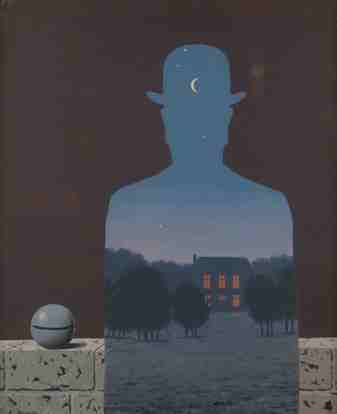 Musée d'Ixelles, Brussels
The Happy Donor by René Magritte, 1966
Leopoldo de' Medici was not the first to collect artists' self-portraits, but he went about it with an energy and determination never before seen. In 1664, he commissioned Guercino and Pietro da Cortona, both by then in their 60s, to paint their own likenesses expressly for him, and instructed his agents around Italy to acquire other works of this genre. By the time of his death the cardinal had amassed about 80.
Fifty years later, the Medici collection had grown to over 180 works, and the enterprise had gathered its own momentum. By this time artists were flattered to be asked to donate a picture and join the ranks of such an illustrious club, whose members included Titian, Tintoretto, Parmigianino, Holbein, Velázquez, Rubens and Van Dyck. The process has continued until this day, and the Uffizi has about 1,400 pieces, making it the greatest collection of its type.
The gallery is now hosting a special exhibition devoted to the last 100 years: 'Moi! Self-Portraits of the 20th Century,' bringing to Florence nearly 140 paintings, drawings, sculptures and photographs from a wide range of sources. (It continues until Jan. 9.)
The permanent Uffizi self-portrait holdings are presently hung on the walls of the so-called Corridoio Vasariano, the long, raised corridor that links the Palazzo Vecchio, Uffizi, Boboli Gardens and the Palazzo Pitti, designed in the 1560s by the artist, architect and art historian Giorgio Vasari. This private thoroughfare, used by the Medici to move between their fortified residences and offices, is still not normally open to the public, but during the course of the exhibition, there are free guided tours on Fridays, Saturdays and Sundays, at 3.00 p.m. in English and at 4.30 p.m. in Italian.
The best way to maximize one's chances of joining a tour is to make an advance booking for the Uffizi for early on one of those weekend days (tel.: 0039 055 294883) and, once inside the gallery, go straight to the bookshop at the entrance to the 'Moi!' show to put one's name on the list.
Self-portraiture must surely be as old as figurative art itself - the artist taking advantage of a model of infinite patience, available at all times and free of charge. There are no doubt numerous self-portraits in ancient art, but few can be identified due to lack of biographical information. By the Middle Ages, scribes were placing their 'signatures' on illuminated manuscripts by strategically placing pictures of themselves in their illustrations, and some of these have been matched with names.
With the Renaissance came an explosion of self-portraiture. Examples survive from just about all the greats, from Alberti, Ghiberti, Van Weyden and Memling to Mantegna, Dürer, Michelangelo and Veronese, and from a host of lesser-known artists. In large compositions, these could still serve a signature function. But it is also an index of the rising social status of artists and their self-confidence, not to mention self-assertion, that they would often place their own likeness in a prominent position in the picture. On a practical level, the genre was much assisted by the vast improvement in the quality of mirrors - for until then artists, like everyone else, could only see themselves 'through a glass, darkly.'
As for how much vanity was involved, this has to be taken on a case-by-case basis. Presumably Botticelli really did have those full-lipped, luxuriantly tonsured, rather brutal good looks that he depicts in his likeness as a bystander turning toward the observer in his 'Adoration of the Magi' (now at the Uffizi). Perugino left a thoroughly off-putting, blotchy-faced, warts-and-all rendering of himself in his frescoes at the Collegio di Cambio in Perugia, whereas a portrait of him attributed to a student, Raphael, shows him infinitely more smooth-skinned, wholesome and engaging.
Dürer recorded himself at the age of 13 in a brilliant drawing, and continued to do so all his life, unabashedly depicting himself at 29 as Jesus Christ. Rembrandt did more than 200 portraits of himself during his career, and far from seeming a display of monstrous self-absorption, he shows in them such a penetrating eye that we feel we know him through them.
Vermeer modestly displayed himself at work in his 'Allegory of Painting,' seen only from behind. The 17th-century Austrian Johannes Gumpp did the same but added his reflection in the mirror and on the canvas on his easel - having it both ways, as it were.
Highly successful 17th-century court painters such as Velázquez, Rubens and Van Dyck presented themselves on occasion as magnificently attired as their royal and aristocratic sitters, and against backdrops no less grand. And many a bewigged 18th-century artist mixing in similar milieux followed suit. In the 19th century a tendency developed, fostered by Romanticism, for artists to depict themselves no longer as members of an ordered society in which they enjoyed a recognized role, but as increasingly alienated outsiders. In the 20th century many artists, even when not starving in proverbial garrets, have responded to this crisis of identity in various ways.
The Bosnian artist Safet Zec, in his 'Stolen Self-portrait,' paints a cheap shaving mirror hanging on a dilapidated wall - reflecting an empty room which, we feel, the artist has only just left, unable to put himself in his own picture.
The most cheerful self-send-up at the Uffizi show is Norman Rockwell's 1960 'Triple Portrait.' As in Johannes Gumpp's picture, we see the artist from behind, but in this painting the artist reflected in the mirror (a bespectacled Rockwell in his mid sixties) is shown depicting a handsome fellow without spectacles at least 20 years his junior.
As the most disturbing self-portrait, Felix Nussbaum's 1943 'Self-portrait with Jewish Identity Card' can have few competitors. Nussbaum was arrested soon after painting it and died at Auschwitz. This unforgettable picture, now at the Osnabrück in Germany, is not, unfortunately, in the Uffizi show. But a lesser-known Nussbaum from a private collection, 'Self-Portrait With Mask,' done in 1928, is prophetic in its own way. One of the most interesting pieces in the show, it confirms that artists can achieve a kind of immortality, simply by depicting themselves.
---
First published: International Herald Tribune
© Roderick Conway Morris 1975-2023